Castle Air Museum Open Cockpit Day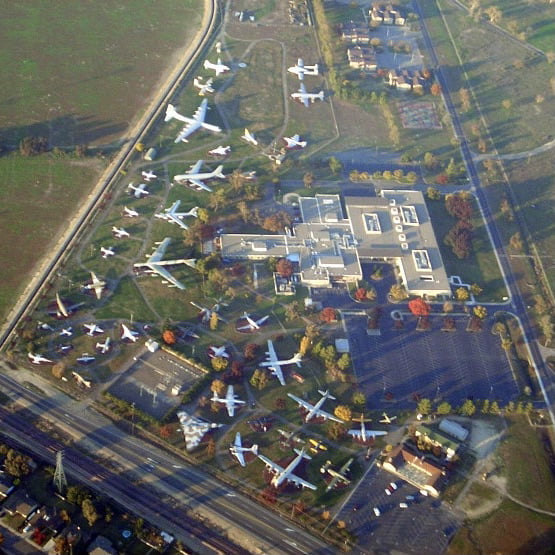 October 2nd is a special day at the Castle Air Museum – it's Open Cockpit Day! Castle Air Museum has a wide variety of historic aircraft, and on two days per year, the museum allows visitors to visit the inside of normally off-limits aircraft! Let's spend a Saturday viewing the insides of these magnificent aircraft, as well as the exteriors in the museum's beautiful outdoor setting.
The museum is conveniently located next to Castle Airport, which as a former B-52 Air Force base, boasts one of the longest runways in California. The sole 11,800' foot runway can be seen miles away and is a great place to practice your flare upon landing. It also boasts numerous instrument approaches should you wish to spend some extra time resetting your instrument currency before or after the museum visit. After landing, park at Gemini Flight Support (offering no ramp fees) and walk fifteen minutes to the museum.
At the museum, see aircraft such as a Boeing B-29 Superfortress, SR-71 Blackbird, and the Convair RB-36H Peacemaker, which is the largest mass-produced piston aircraft. Another highlight is a Presidential Transport aircraft, which normally does not allow guests to view the interior. In addition to the static displays, the museum will also have a medical helicopter fly-in and offer rides to the public, as well as open simulators and other fun activities for people of all ages. The museum also offers a food court for lunch.
The museum opens at 9 AM and closes at 4 PM, so feel free to arrive anytime within that window. The museum is fairly large, so plan to stay at least a few hours. It also is mostly outside, so please bring water and sunscreen. Afterward, grab fuel with the FBO, and enjoy a leisurely flight home.
This is always a popular FOG event, so please RSVP early and let us know if you are able to take passengers, in order to allow student pilots to participate. Looking forward to seeing you at Castle Air Museum this fall!