Building My Own Airplane
June 27, 2020 @ 12:00 pm

-

1:30 pm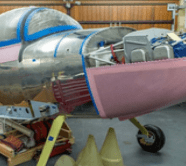 **Due to the COVID-19 public health crisis, this seminar will only be available for online viewing. IN-PERSON ATTENDANCE WILL NOT BE PERMITTED.**
Click here to learn more about online viewing.
Flying an airplane is fun, but building your own airplane will really teach you about airplane systems and airworthiness.  That lifelong childhood dream of building your own safe, FAA-approved airplane can come true.  The safety of an airplane is a pilot's top priority, and so what do you need to know as a builder to be sure that your airplane will stay in the air?
San Carlos Flight Center invites Thomas Carlson, a Sport Pilot and ELSA (Experimental Light Sport Aircraft) Airplane Builder to speak with the pilot community on the ups and downs of his experience building his airplane.  The experimental build category provides seemingly limitless affordable choices and is where ASTM / LAMA standards are applied in a reasonable and safe way to build planes.  However, many people can be intimidated by the thought of building their own airplane.  Where do I start?  When can I start?  Why would I want to do this?  Will my airplane even stay in the air?  Airplane builders must take into account all the necessary measures.  In this seminar Thomas will answer all of those questions along with discussing his experiences with choosing, building, and soon to be flying a VAN'S RV-12iS.
Don't miss out on this opportunity to learn from a fellow aviator how you can safely build the airplane of your dreams.  You don't have to be an expert craftsman nor a rocket scientist to build, but there are definitely things to learn from someone who has been through this process before.
Thomas Carlson is a Sport Pilot and ELSA (Experimental Light Sport Aircraft) Airplane Builder that loves sharing his airplane building experiences with the pilot community.  He is an active member in EAA Chapter 20 and hopes to be flying his Vans RV-12iS soon.
San Carlos Flight Center (SCFC) is the SF Bay Area's most dynamic flying club, committed to building general aviation thought safety, community, and adventure. AOPA has consistently recognized SCFC in their Best Flight School survey, most recently in 2019 as a Distinguished Flight School.
SCFC is committed to promoting safety in general aviation through our regular safety seminars and guest speaker programs. Space is often limited so it is important to sign up early. SCFC members may choose to watch the seminar live over the web at home, or recorded at a later date. Click here or contact a SCFC member service rep at (650) 946-1700 for more information about online access.