Blades of Glory: What Every Pilot Should Know about Propellers
January 13, 2021 @ 7:00 pm

-

8:30 pm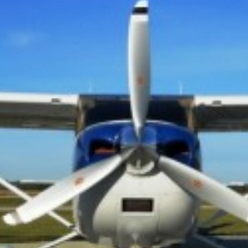 Due to the COVID-19 public health crisis, this seminar will only be available for online viewing. IN-PERSON ATTENDANCE WILL NOT BE PERMITTED.**
Click here to learn more about online viewing.
Is this tiny nick on the propeller an airworthiness item? How perfect does the paint need to be to keep the propeller balanced? If my propeller isn't completely broken, do I still need to send it to the shop? San Carlos Flight Center has invited Samantha Bloodhart of Sullivan Propellers for an enlightening and educational presentation to promote awareness of safety related propeller and propeller governor issues.

Sam will review basic propeller knowledge for pilots, including design differences between the major manufacturers, fixed pitch vs. constant speed operation, realistic evaluation of propeller condition before flight, and the inherent dangers of deferring propeller (or any other aircraft) maintenance. She will discuss some of the common propeller Airworthiness Directives that are owner-operator responsibility (not just mechanics). Finally, she will explain the differences between overhaul, dynamic balancing, and other major types of propeller/governor service.  This is all supported with numerous photos and years of anecdotes (some amusing and some amazing).

Propellers are an essential part of flight, and pilots should gain a better understanding about them. If you want to gain more knowledge about what keeps you flying, we encourage all pilots to attend.
Samantha Bloodhart moved to the Bay Area in 1994 from Ohio to open Sullivan Propeller Specialists with her partner Brian Sullivan. Sullivan Propeller has been in business in Hayward since we opened, now 23 years. She is a licensed FAA Repairman. Currently she is the voice of Sullivan Propeller – handling most of the administrative tasks as well as front-line on customer service. Samantha is also the primary administrator for our Repair Station and handles all the FAA requirements/compliance issues as such. Bloodhart founded Sullivan Propeller in 1994, along with Brian Sullivan.
San Carlos Flight Center (SCFC) is the SF Bay Area's most dynamic flying club, committed to building general aviation through safety, community, and adventure. AOPA has consistently recognized SCFC in their Best Flight School survey, most recently in 2019 as a Distinguished Flight School.
SCFC is committed to promoting safety in general aviation through our regular safety seminars and guest speaker programs. Space is often limited so it is important to sign up early. SCFC members may choose to watch the seminar live over the web at home, or recorded at a later date. Click here or contact a SCFC member service rep at (650) 946-1700 for more information about online access.