Back in the Cockpit After Taking Two Months Off
May 16, 2020 @ 12:00 pm

-

1:30 pm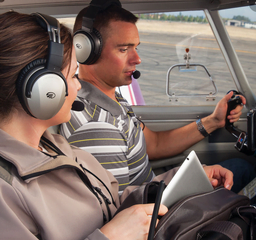 **Due to the COVID-19 public health crisis, this seminar will only be available for online viewing. IN-PERSON ATTENDANCE WILL NOT BE PERMITTED.**
Click here to learn more about online viewing.
With such a long time away from flying, many of us can't wait to get back in the air.  Some of you might have used this time to brush up on ground school skills, or plan your next big trip.  That helps keep you in an aviation frame of mind, but all of us will need to brush up on our flying skills with our CFI's once we return.  How does a safe, competent pilot approach restarting flight activities after a period of months away from the cockpit?

As SCFC eyes reopening the club to member flights, San Carlos Flight Center has invited CFI Mariana May Barrato to chart a course through recurrency.  What are the safest, most efficient ways for pilots to get back in the air.  What are the regulatory requirements?  What knowledge areas likely need attention?  How can a pilot structure the first few flights back to build back full capabilities.  In this seminar, Mari will cover those topics, and provide an outlook on what to expect coming back into flying.

With many of us begging to take to the skies, we must take into consideration the safest ways to do so.  Come join us and find out.
Mari May Baratto is a Certified Flight Instructor and an FAA Instrument Ground Instructor with experience teaching both Private and Commercial Pilot students. A commercial rated pilot both in Brazil and in the United States, Mari has a diverse background flying through different airspaces, especially through one of the country's most intimidating areas, the Washington DC SFRA. Mari has been recognized as a 2018 Distinguished Flight Instructor by AOPA.
San Carlos Flight Center (SCFC) is the SF Bay Area's most dynamic flying club, committed to building general aviation thought safety, community, and adventure. AOPA has consistently recognized SCFC in their Best Flight School survey, most recently in 2019 as a Distinguished Flight School.
SCFC is committed to promoting safety in general aviation through our regular safety seminars and guest speaker programs. Space is often limited so it is important to sign up early. SCFC members may choose to watch the seminar live over the web at home, or recorded at a later date. Click here or contact a SCFC member service rep at (650) 946-1700 for more information about online access.