Are Two Engines Better than One? A Pilot's First 200 Hours of Multi-Engine Flight
January 8, 2022 @ 12:00 pm

-

1:30 pm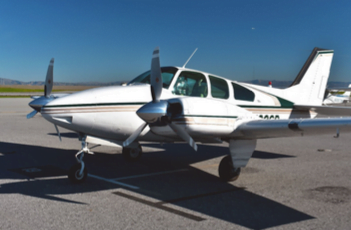 Due to the COVID-19 public health crisis, this seminar will only be available for online viewing. IN-PERSON ATTENDANCE WILL NOT BE PERMITTED.**
Click here to learn more about online viewing
There's an old adage that says "If one engine is good, two engines are better." There are many benefits to multi-engines including faster speed, safety through redundancy, and suitability for cross-country travel. This is a story of one pilot's journey obtaining the airplane multi-engine rating and his goal of flying the Baron Twin as much as possible over a 2 year period while logging over 200 hours. This ambitious goal brought many memorable trips and learning experiences worthy of sharing.

San Carlos Flight Center invites Commercial Pilot Dave Kramer to share these lessons learned after gaining a wealth of experience flying across the country. In this seminar, Dave will reflect on his experience flying the Baron in various conditions, highlight challenging scenarios, and describe the mission profile for flying the multi-engine aircraft. Additionally, Dave will share what motivated him to obtain his multi-engine rating and why he has chosen to fly multi-engine aircraft as his primary aircraft of choice.

If you are interested in a multi-engine rating or want to hear first hand about the experience in one, you will find this seminar insightful. For more on this topic, tune in for a follow-up seminar on Baron Systems on January 26 to learn more about multi-engines and the Baron available for rental at SCFC.
Dave Kramer MD, an ophthalmologist for over 30 years, is an instrument rated, tailwheel, complex and high performance endorsed commercial MEL pilot as well as a basic and instrument ground instructor with an interest in weather. He has been flying since 2012, has over 1100 hours of which over 500 have been in the IFR system.  He also enjoys long cross country flying, night flying and flying in the LA area.
San Carlos Flight Center (SCFC) is the SF Bay Area's most dynamic flying club, committed to building general aviation through safety, community, and adventure. AOPA has consistently recognized SCFC in their Best Flight School survey, most recently in 2019 as a Distinguished Flight School.
SCFC is committed to promoting safety in general aviation through our regular safety seminars and guest speaker programs. Livestream access is free for everyone, but recorded seminars are available solely to members at a later date. Click here or contact a SCFC member service rep at (650) 946-1700 for more information about online access to our web archive.