AirVenture Oshkosh 2020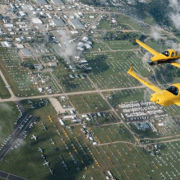 Jul 18 – 26 (Sat-Sun 9 days) AirVenture Oshkosh 2020
HOLD THE DATES and join the inaugural FOG trip TO OSHKOSH.
Join FOG for The World's Greatest Aviation Celebration and support EAA. You must be a member to attend. Sign Up at https://www.eaa.org/eaa
For now, Experience a taste of AirVenture through all the news, photos, videos, and much more that revolve around the World's Greatest Aviation Celebration®. It's the next best thing to being in Oshkosh! https://www.eaa.org/airventure
More Details to follow…
Please sign up below so we can get an accurate headcount and keep you in the loop with updates.
FOG is for EVERYONE. You do not have to be a San Carlos Flight Center member to attend.
Please note that you must be logged into the website in order to sign up
( see above right corner of website Login / Register )
Contact us with any questions at [email protected] or (650) 946-1700.