Member News
Welcome New Members
Tomas Bielskis
Brian Gaeke
Adrian Gasinski
WD Lewis
Basil Newburn
Wyndell Roussell
David Story
Marc Verdugo
Member Achievements
Justin Chow
First Solo Flight
CFI Steve Gauvin
Herb Patten
Instrument Rating
CFI Patti Andrews
Patti Andrews
Gold Seal CFI
 
SCFC Gear Makes a Great Holiday Gift!
We guarantee you won't see our exclusive t-shirt and mousepad designs anywhere else! They make unique and thoughtful gifts for anyone on your list.
Pop Quiz
A fun monthly
knowledge test.
1. At what altitudes do the daytime VFR weather minimums change in Class G airspace?
2. An airplane, an airship, and a glider are converging, none of them head-on. Who has right of way?
3. What additional inspection is required of IFR aircraft that is not required for VFR flight?
(answers are at the bottom)
 
The Fleet
C182 - G1000
N1483L - $240/hr
C172S - G1000
N63251 - $170/hr
N1004E - $170/hr
N646DW - $170/hr
C172S - 6-pack
N458SP - $150/hr
N236SP - $150/hr
C152
N24896 - $95/hr
N6123L- $95/hr
Simulators
Multi-Screened G1000 - $75/hr
Xwind 200 - $250/session
ATD GNS-430W - $30/hr
(member prices shown)
 
Pop Quiz Answers
1. 1,200 ft AGL and 10,000 ft MSL. It's 1sm and clear of clouds below 1,200 ft AGL. Then 1sm and 500/1000/2000 above 1,200 ft AGL up to 10,000 ft MSL. Above 10,000 ft MSL, it changes to 5sm and 1000/1000/1sm.
[14 CFR §91.155]
2. The glider.
[14 CFR §91.113(d)(2)]
3. Altimeter and pressure altitude reporting system must be inspected every 24 calendar months.
[14 CFR §91.411(a)]
 
Stay Informed

December 2012
New Ground School sessions start up in January
Private Pilot Ground School - Tuesdays at 6:30pm
Starting January 8th. Taught by Dan Dyer, tuition for this 12-week session is $250.
Instrument Ground School - Thursdays at 7:00pm
Starting January 10th. Tuition for this 12-week session is $280.
* * * * * * * * * * * * * * * * * * * * * * * * * * * * * *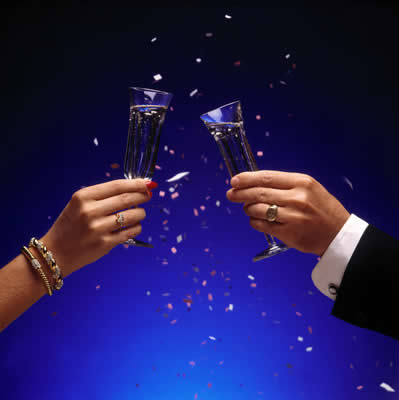 Got Plans for New Year's Eve?
We cordially invite you to the SCFC Holiday Party on December 31st. This will be the most fun New Year's Eve party you've ever been to, so put on your party garb and come hang out with your SCFC friends!

You'll enjoy outstanding food and drink, partake in some memorable traditions, honor the year gone by, and share our hopes for 2013. We'll countdown to "midnight" at 10:00pm, so whether you're an early bird or a party animal we've got you covered! Cost is $25 per person before December 21st, or $40 at the door, and 100% of your ticket price goes toward the Upwind Summer Scholarship Fund.

RSVPs and inquiries, (650) 946-1700 or info@sancarlosflight.com.
Keep Improving Your Skills through Winter with Packaged Simulator Training
At SCFC we approach sim training a bit differently. We get results by packaging together a pilot, an instructor, and a clear training objective, either IFR or VFR, usually for a tight 2-hour session. With winter weather upon us, challenge yourself to keep your pilot skills fresh using one of our Packaged Simulator Sessions.

IFR Pilots - Test yourself against one of our challenging GPS, VOR, ILS, or advanced Instrument Approach Packages. Or get started on an IPC to get current again. Over 20 defined IFR Sim Challenge packs are available to take your IFR rating to the next level.

VFR Pilots - Skills building should continue even after you get your license. SCFC offers sim training packages to improve your skills with crosswind landings, G1000 avionics, Garmin 430, and C182 systems, as well as training in emergency procedures and equipment failures.

One popular sim training package is the Fly the Bay Tour session. Practice flying a Bay Tour, complete with radio calls, on the simulator with an instructor. Follow it up with a flying session and you'll feel 100% confident treating your friends to a flight.
[Note: Our Xwind simulator will be offline for a few weeks in January for some scheduled upgrades.
If you plan to do crosswind training, please plan to book either in December, or after the upgrades are complete in January.]
Member Profile: Michael Vowles
SCFC: What inspired you to learn to fly?
MV: I have been inspired by aviation since I was a child and have always wanted to learn how to fly. Early in my career, I did not have the money and later I did not have the time. While driving by San Carlos Airport one day 3 years ago, I decided to drop in and enroll in ground school. It was so inspiring I began my flight training 3 weeks later.

SCFC: We understand you like to fly with friends.
MV: I regularly fly with my pilot 'buddy' Herb Patten. We share the same interests and same level of VFR piloting skills. It's good to fly with another pilot since you can continue your learning experience even after you receive your license. We can also fly twice as far since one of us will fly the outbound leg while the other will fly the return.

SCFC: And when you're not at the airport?
MV: I like to be challenged and learn new things. I am currently working on my IFR rating as well as learning how to sail. I also like teaching others. I co-lead the Bay Area Student and New Pilots Support Group with Herb. The group meets monthly to discuss topics relevant to student and new pilots, and all are welcome to join.

SCFC: You helped create the Upwind Summer Scholarship Fund. How did that come about?
MV: I remember being 16 years old and wanting to learn how to fly, but was not financially able. If something like the Upwind Scholarship Fund was available to me, it would have changed my life. Today I am fortunate to be able to fly and wanted some way to give back to the community - giving a deserving high-school student the opportunity to obtain his/her private pilot's license. I encourage all of you to contribute to the scholarship, either in the form of a monetary donation or a donation of your time.

The Member Profile is a regular newsletter feature, designed to help SCFC members get to know one another.
* * * * * * * * * * * * * * * * * * * * * * * * * * * * * *
FlyOutGroup (FOG) Event Recaps
It's so much fun to share flights or to meet up with old & new friends for a meal far away from home base.
Six FOG planes and nine FOG friends enjoyed a great FlyOut Brunch at Wings Grill, on the field at Auburn airport (KAUN) on December 9th. Beautiful late fall weather afforded us clear skies, calm air and low density altitudes.
Five FOG pilots toured the Oakland Center ARTCC on December 6th, getting an up-close and personal view of the controllers hard at work.
Seven FOG pilots toured the NorCal TRACON facility on December 7th. They were treated to a briefing and opportunity to shadow the controllers.
FOG is successful because of your participation. Thanks for making every event fun, and we look forward to seeing you at future FOG events!
Next up is everyone's favorite, Full Moon Flyers on Friday, December 28th. We'll pick an airport with good VFR weather enroute and meet up for dinner. It's a great opportunity to re-set your night currency, or to bring a friend to enjoy the stunning view. Students - bring your CFI and make your night cross country flight a fun one.
FlyOutGroup (FOG) 2013 Big Trips
The dates are set for FOG 2013 Big Trip Calendar. Make plans now to join us for lots of fun and flying.

FOG pilots have a blast on big trips! We all contribute to route planning, inevitably with a couple backup plans. Then we launch and fly as a group, keeping in contact in the air, bound for somewhere really fun and interesting. On the ground we have a nice dinner and swap stories and argue about who was the best or worst fuel/time/bio-break planner.
Here are the big trips for 2013:
April 5-7 (Fri-Sun) Wine Tasting in Santa Maria
Arrive Friday evening or Saturday morning for a day of wine tasting in the Santa Ynez Valley. Stay overnight at the Radisson Hotel where you can taxi directly to the hotel!
June 26-30 (Wed-Sun) Colorado Mountain Flying
Spectacular scenery and challenging flying make this trip intensely awesome. We take all C182s with one CFI and two pilots per plane.
October 3-6 (Thu-Sun) Portland & Seattle
Another trip with stunning views of the lush Pacific Northwest. We visit the Boeing factory and enjoy a bit of city nightlife. Instrument rating required or must bring a CFI - weather patterns in the northwest can be unpredictable.
October 10-12 (Thu-Sat) AOPA Aviation Summit, Ft Worth, TX
A general aviation playground, particularly if you're in the market for an airplane or gadgets.
March 14-17 (Thu-Sun) Baja for Whale Watching
FOG joins Baja Bush Pilots for this incredible experience. Cross the US/Mexico border and enjoy sunshine, relaxation, and maybe even make friends with a whale.
* * * * * * * * * * * * * * * * * * * * * * * * * * * * * *